Queenstown's best Ribs and Steak, grilled in African Fire.
More than meat…
Our Flame Menu is also more than just ribs and steaks. From the freshest seafood and tender skewered meats to vibrant seasonal salads there's something to please every taste. Mozambique Prawns, Peri Peri chicken, great Burgers including our very own Sunny Burger - Flame is so much more than a favourite Queenstown steak house.
Our award-winning Steak
Our Meat partners hand-pick very finest marbled beef, age it for at least 55 days to create unprecedented levels of flavour, tenderness and succulence. All that effort was recently recognised at the World Steak Challenge in the UK our steaks took out Gold and Silver awards. So yeah, we're proud of our Steak, but the proof is on your plate! Flame - truly a premier Queenstown steakhouse.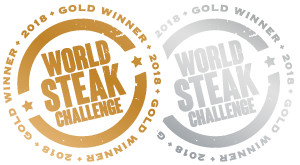 Here's what our customers had to say
This fantastic place never fails to please. This is a definite "must do" while in Queenstown. The food is superb! The staff are terrific. They are...
Travelbugs, Western Australia
Tender and meaty ribs, generous portion, sweet and just a little tangy sauce, very tasty and thoroughly enjoyed! Arrived on a busy day, lovely staff...
Naomi Free, Sydney
Great food and vibe
Here with our family on the first night in Queenstown. We read all the reviews, booked in advance and thoroughly enjoyed it. The...
Rob Nelson, Napier, New Zealand
Read More Reviews